Outdoor Kitchen, Fire Places, and Fire Pits
Outdoor Fire Features for Your Salt Lake City Home
Deep Blue Inc does much more than just pools and spas. Our fire features can brighten up your landscape and provide light, warmth, and more to your deck or porch. We design and build outdoor fire features that provide comfort and functionality.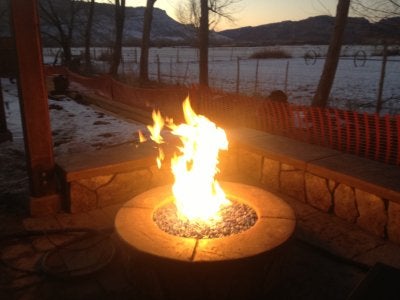 The outdoor fire features we can install include:
Fireplaces
Fire pits
Outdoor kitchens
Ovens
Barbecues
Outdoor Fire Pits
There is a lot you can do to spruce up your property, and an outdoor fire pit near Salt Lake City is an excellent option. From increasing the value of your home to saving you money on your energy bills, this type of investment could be a great idea for your family. At Deep Blue Inc, it's
our job to fit you with the perfect outdoor fire pit for your yard.
Benefits of an Outdoor Fire Pit
Increase Resale Value – If there is any chance that you might decide to sell your home in the future, it's a good idea to start thinking about how you can improve its value now. By adding an outdoor fire pit to your property, you can increase its appeal to potential buyers and their families. Deep Blue Inc, can help you choose the best outdoor fire pit for your home.
Keep Smells Out – As great as a fireplace can be, it typically comes with some scents that you might not want in your home. When it comes to outdoor fireplaces, on the other hand, you won't have to worry about the smell wafting through your house. This can further increase the resale value of your home because potential buyers won't have to deal with the smell of smoke and ash in the house.
Save on Utility Bills – Part of the reason an outdoor fire pit is so appealing is that it's both aesthetically pleasing and practical. If you want to save some money on your utility bills, consider talking to Deep Blue Inc about an outdoor fire pit. This way, you can save some money on your heating bill while also keeping your heating appliances in good shape.
Entertain Guests – If you like to have people over and entertain, an outdoor fire pit can be a particularly fun addition to your home. When the sun goes down and the temperature goes along with it, you might not be ready to pack it in and go inside. Thanks to your outdoor fire pit, the party doesn't have to end just quite yet.
Extend Your Living Space – There's nothing wrong with having a small living space,
but there are also plenty of steps you can take to enjoy more room. Adding an outdoor fire pit is essentially like creating an outdoor living room, as it presents a focal point and a source of heat for everyone to gather around. Talk to the team at Deep Blue Inc if you think extending your living space with an outdoor fireplace is right for you.
We Work Within Your Budget
Whether you're simply looking to sit outside around a fire and talk with friends over drinks, or you want to prepare delicious meals, our team at Deep Blue Inc can make your dream a reality. We understand that there is a budget for any project. Our talented designers will design
the perfect outdoor fire feature within your price range based on your particular preferences.
For a free estimate or to schedule a meeting with a member of our design team,  call us at 801-266-7665.