Water Feature Professionals in Salt Lake City, UT
Adding Outdoor Water Features to Your Salt Lake City Properties
So, you've decided you would like to incorporate a water feature into your landscape? Well, you've come to the right place. The experts at Deep Blue Inc in Salt Lake City, UT, can help you in every aspect, including design, installation, maintenance, and repair. We've been helping our customers in the area for years, and we provide detail-oriented results at affordable rates. Our seasoned design and installation teams love partnering with property owners to craft the ultimate backyard oasis—a meeting place for friends and family to enjoy. To get the process started, call today for a free in-home estimate.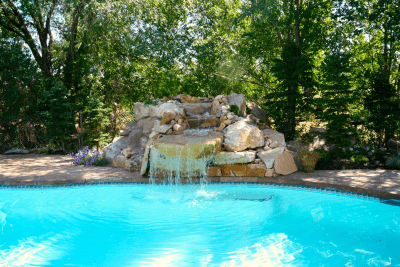 A water feature for every type of property
The first thing you'll need to do is decide what kind of water feature you want based on what function you want it to perform. We install the following types of water features:
We provide individualized pool services for every property we work on because we know no two homes are the same. Each home has a unique aesthetic and vibe that any added water feature should preserve. Our experienced design team can help conceptualize the right water feature to match the rest of your property. We want to help craft a space where you will love entertaining friends and family for years to come.