Pool Retiling Services in Salt Lake City, UT
Professional, Affordable Pool Retiling
Retiling your pool can improve safety issues and restore its beauty and comfort. Like any other part of your home, your pool requires care and maintenance to continue looking its best. If your pool tiles are cracked, chipped, fading, or missing, investing in pool retiling will bring it back to life. At Deep Blue Pool and Spas, our pool contractor has decades of experience in pool repairs. Call us today to schedule a consultation or request an estimate for retiling a pool in Salt Lake City, UT.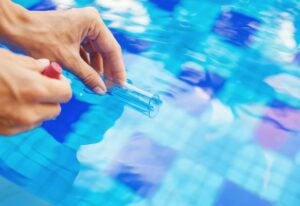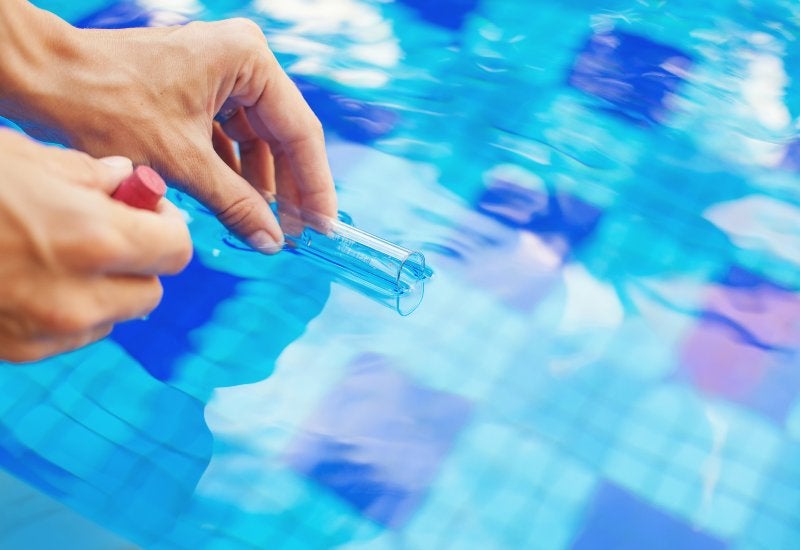 When and Why You Should Retile a Pool
Wear and tear, weather, and lack of maintenance can cause your pool tiles to show signs of aging. The most common issues with pool tiles are fading, algae and mildew growth, and staining. It is more cost-effective to schedule an appointment for pool retiling once you notice signs of an issue. The more significant the problem gets, the more expensive it will be to repair. Retiling your pool is also key to pool repair or swimming pool remodeling. Call our experienced pool contractor today if you see any of these signs you need to retile the pool edge or the entire swimming pool:
The pool or tiles are over 15 years old.
Tiles are stained, faded, or discolored.
Tiles are cracked or chipped.
There are multiple missing tiles.
Jagged tile edges are causing a safety issue.
Tiles are covered in mildew or algae.
Tiles are loose.
You see signs of grout corrosion.
Where and How Are Pool Tiles Installed?
Pool tiles can be both a design element and an important part of the pool's construction. Pool tiles can be installed along the pool's waterline, as a border along the pool decking, along the pool's steps, and across the entire surface of the edge, sides, and bottom of the pool. They can also be installed along water features and other accents. We will work closely with you to evaluate your personal design preferences and aesthetics and offer our professional recommendations for where the tiles should be installed to achieve your vision. Our process to install pool tiles or to retile a pool edge or an entire pool is as follows:
Initial consultation and assessment – We will assess your pool and discuss your goals and vision. We will recommend tiling solutions that meet your needs and budget.
Drainage – The pool must be drained completely to complete pool retiling. When it is drained, we will remove ladders, drain plates, and other items that could be damaged while we remove the old tiles.
Old tile removal – We will carefully remove the old tiles while preserving the condition of the underlying plaster.
Adhesive removal – We will remove the old adhesive, or scratch coat, from the pool walls. Then, we will clean the areas to be retiled with muriatic acid.
Chalk lining – We use chalk lining to keep the tiles straight or to maintain the integrity of the tile pattern or design.
Tile setting – We will carefully set each tile in place.
Groutwork – When the tile coating has been set, which may take up to two days, we will apply the grouting. The grout will also take up to two days to dry.
Inspection – We will walk you through our work and have you approve.
Refilling – When the inspection is complete, we will reattach ladders, drain plates, and other items and refill the pool.
Best Types of Tiles for Swimming Pools
You can choose your pool tiles' colors, styles, designs, and materials. Some tile materials are more suited for maintaining safety and beauty in swimming pools than others:
Porcelain tiles – Porcelain tiles are durable, beautiful, and available in many designs, colors, and styles. They are hard-fired and water-resistant. Small-format porcelain tiles are the most commonly used tiles for pool retiling.
Natural stone tiles – Natural stone tiles are classic and timeless. You can choose between granite, soapstone, limestone, slate, or travertine. Using natural stone creates a warm ambiance, and depending on the stone you choose, you can create a modern or rugged aesthetic.
Glass mosaic tiles – Glass mosaic tiles are a classic choice for Utah pools. They are available in different colors, styles, and finishes. They are cost-effective, low-maintenance, and gorgeous.
Ceramic tiles – Ceramic tiles are another versatile choice for retiling a pool. You can find them in unique designs, textures, and shapes. They are easy to clean and scratch-resistant.
Why Choose Deep Blue Pool and Spas
At Deep Blue Pool and Spas, we are a pool contractor with over 20 years of experience in the industry. We operate our business with honesty and integrity and are committed to quality workmanship and materials, exceptional customer service, and pricing transparency. We begin each job with a thorough consultation and free estimate. We will work closely with you to get a feel for your needs, vision, goals, and budget so that we can design the perfect pool services for you. We specialize in installation and spa, construction, maintenance, resurfacing and replastering, repair and remodeling, and pool opening and closing services. We can also install unique, eye-catching water and fire features that transform your pool and spa area. Our hard work, dedication, and commitment to building strong customer relationships have earned us a stellar reputation in the community.
Schedule a Consultation for Pool Retiling
If you're tired of avoiding your pool because the damaged tile is an eyesore, call us today or contact us online to schedule pool retiling in Salt Lake City, UT. We will send our experienced pool contractor to your home to assess your tiles' condition, age, and safety. We can then recommend pool repairs or pool retiling and give you an estimate. Call us today to get the pool of your dreams.
Why Choose Us?
Small Company, With Big Service
Owner Operated
Impeccable Customer Service
All Employees Are Certified Pool Operators
Well Trained, Knowledgeable Staff