Swimming Pool Inspections in Salt Lake City, UT
Protect Your Family With a Swimming Pool Inspection
A swimming pool inspection protects family, friends, and guests from health and safety issues associated with using your pool. If you regularly let people outside your household use your pool, you can mitigate your liability for injuries and accidents by scheduling seasonal pool inspections. At Deep Blue Pool and Spas, swimming pool safety is our top priority. We use a rigorous checklist for residential swimming pool inspections in Salt Lake City, UT. It's in your best interests to be proactive about scheduling assessments of the safety of your pool. Call us today to schedule an inspection or to learn more about how they are conducted.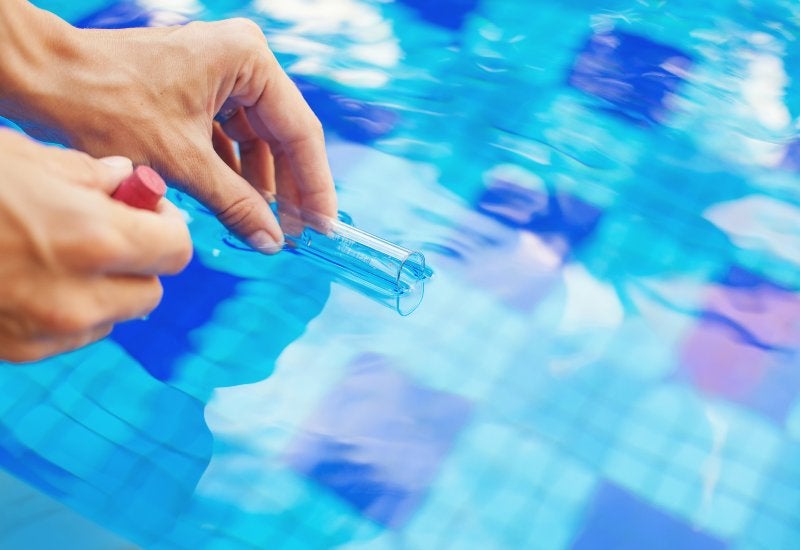 Why You Need a Professional Pool Inspection
A swimming pool inspection identifies issues that affect your pool's comfort, safety, and value. You will get an early warning of problems so that you can repair them before they get bigger, more expensive, or more dangerous. Our team has decades of experience evaluating and assessing the condition and safety of residential pools. We recommend requesting a comprehensive swimming pool inspection report when:
You are buying or selling a home.
You haven't used your pool in a year or more.
You will have children or teens using your pool for the first time.
You regularly let people outside your household use your pool.
The neighbors and their children have access to your pool.
You're concerned about the condition of your pool.
You are about to go on a summer vacation or have just returned from one.
Our Swimming Pool Inspection Checklist
We use a thorough swimming pool safety inspection checklist to ensure any major or minor issues are caught. Our swimming pool safety inspection checklist includes:
Pool protection and location – We will examine the location and placement of your pool to identify hazards. We will assess the:

Pool size and depth
Materials used in construction
Age and manufacturer
Overall condition
Steps and stairs
Decking
Fencing
Gates
Locks or alarms
Safety lighting
Diving boards or structures
Enclosures or screens
Placement of electrical wires or outlets
Placement about the home

Pool coping and vessel – We will inspect the condition, age, and health of your pool's interior and exterior, steps, stairs, coping, and decking to look for signs of:

Cracks
Discoloration
Chips or breakage
Pitting
Open joints
Rust
Missing pieces
Chemical imbalances
Issues with water level or water condition

Pool equipment – We will closely evaluate the health, condition, and safety of all pool equipment we have access to, including:

Pool and spa lights
GFCI outlets
Junction box
Pumps and motors
Filters
Piping
Heater
Timers
Disconnects
Accessories
Drains
Skimmer
Bonding

Equipment operation – We will test the operation of all equipment we have access to and look for signs of problems like:

Leaks
Improper skimming
Filtration problems
Heater problems
Filter pressure issues
Spa blower operation issues
When our inspection is complete, we will provide you with a written copy of our residential swimming pool inspection report for your records. It will outline any issues that need attention and offer recommendations for pool repairs and a timeline for remedying the issues.
Common Violations Listed in Swimming Pool Inspection Reports
Any issues we encounter during your pool inspection will be carefully detailed in a written swimming pool inspection report. In addition to explaining the issues, we will offer professional advice, recommendations, and remedies for issues we find. The most common violations we encounter are:
Improper pool chemistry.
Insufficient, damaged, broken, poorly repaired, or missing pool safety equipment.
Lack of adequate or secured fencing around pools and spas.
Trip hazards or safety issues related to the pool deck, pool walls or bottom, pool steps, or pool stairs.
Insufficient lighting for using the pool at night.
Why Choose Deep Blue Pool and Spas
We are a pool contractor with over 20 years of experience at Deep Blue Pool and Spas. We specialize in pool and spa installation and construction, repairs and maintenance, remodeling and resurfacing, leak detection, and replastering and repainting. We also offer water features, fire features, pool and spa lighting, pool and spa covers, and pool heater services. We are committed to quality workmanship, professionalism, and exceptional customer service. Each team member is a certified swimming pool builder with extensive skills, knowledge, and experience. We will work closely with you to bring your vision of your dream pool or spa to life.
Request a Residential Swimming Pool Inspection Report
If you're ready to schedule a residential swimming pool safety inspection, call us today or contact us online to make an appointment. We'll send our experienced, highly skilled team to your home to assess your pool's safety, condition, and health. Your and your family's safety is our highest priority, and we will do everything in our power to ensure your pool is safe and comfortable to use.
Why Choose Us?
Small Company, With Big Service
Owner Operated
Impeccable Customer Service
All Employees Are Certified Pool Operators
Well Trained, Knowledgeable Staff