Professional Pool Heater Installation in Salt Lake City, UT
Deep Blue Pool and Spas Offers Complete Pool Heater Service
Nothing makes us happier than seeing pool owners enjoy their investment to its fullest. At Deep Blue Pool and Spas, we offer customers exceptional products such as swimming pool heaters to extend the pool season even as the temperatures drop in Salt Lake City, UT. Have you ever thought about getting more use out of your pool? We have the solution. Contact us today to get a free estimate for a pool water heater.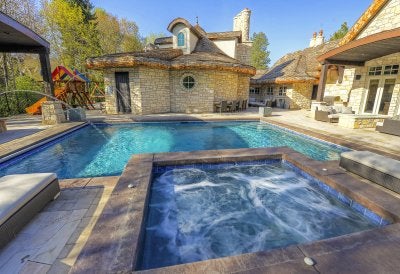 Different Types of Pool Heaters
Our full-service pool company can help determine which type of heater is best for your pool. There are different kinds of pool heaters for inground pools and above-ground models. Each will offer warmer temperatures and extended use during the swimming season. Let's look at the various kinds of heaters available.
Heat Pumps – Heat pumps provide an excellent heat source at a fraction of the cost of an electric or gas-powered heating unit when the temps are above 50°.
Gas Pool Heaters – These are some of the most popular choices in cooler climates because of their affordability and versatility. They are powered by either natural gas or propane.
Electric Heaters – Electricity is ideal for smaller pools, above-ground pools, and hot tubs.
Solar-Power – Solar is an eco-friendly way to keep your pool warm and comfortable throughout the season without relying on fossil fuels.
Why Install a Swimming Pool Heater?
Installing a pool heater is a fantastic way to extend the enjoyment of your pool throughout the year. When you can rely on a heating source, your pool will provide a welcoming temperature earlier in the season and allow you to keep it open and enjoy it later into the fall. Night swimming in a heated pool is one of the most relaxing leisure activities for pool owners. Even during the summer months, temperatures below average, rain, or fewer sunny days can keep your pool from reaching a comfortable swimming temperature. When you have a pool heater installed, none of that matters.
Professional Pool Heater Service and Repair
One of the benefits of working with us is that we are a qualified swimming pool repair company servicing all brands in addition to our installation services. Whether we did your installation or you already own a pool with a heater, you can count on us for maintenance, repairs, servicing, and replacement parts to keep your equipment running reliably.
Why Choose Us
We are your one-stop-shop for everything related to pool ownership. From installation and maintenance to pool covers, water features, fire pits, and barbeques, we can customize a backyard swimming area and service program to keep the fun going. Other reasons to choose us include:
More than 20 years of experience
Locally owned and operated
Our owners work directly with customers
We have an A rating with the Better Business Bureau
Our customer service is unmatched
Schedule a Free Estimate for Pool Heater Service
Pools provide fun and entertainment for family, friends, and guests, and you can raise the level with a new pool heater by Deep Blue Pool and Spas in Salt Lake City, UT. We are experts on all things related to pools and have any accessory you need to build the swimming area of your dreams, including diving boards, hot tubs, pool covers, and water features. Contact us to learn more today or request a free estimate online.
Why Choose Us?
Small Company, With Big Service
Owner Operated
Impeccable Customer Service
All Employees Are Certified Pool Operators
Well Trained, Knowledgeable Staff