Custom Hot Tub & Spa Installation and Construction in Salt Lake City
Salt Lake City Custom Hot Tub and Spa Service
Deep Blue Inc specializes in above-ground and in-ground custom hot tub installation and spa construction as well as new swimming pool installation. We carry outdoor hot tubs and spas of all sizes and shapes so you can be assured it will be comfortable for you regardless of your body shape.
Utah spa builder Deep Blue Inc is committed to your satisfaction. Our success has been built off of customer service and exceeding customer expectations. We install outdoor hot tubs and spas all over the entire Wasatch Front to Southern Utah, including parts of Idaho. So whether you're in the market for custom hot tub installation, hot tub service, hot tub cleaning, or repair, Deep Blue Inc is here for you.
Call our Salt Lake City Office at 801-266-7665 and Request a Free Quote. We also provide a commercial hot tub option for your business.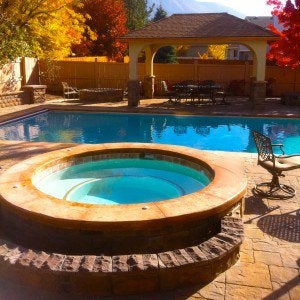 Hot Tub and Spa Expert in Utah with Over 15 Years Experiences
Our spa builder company has been installing many forms and brands of outdoor hot tubs in Utah for over 15 years now. We can customize your hot tub or saltwater pool installation to be fully in the ground, partially, or completely above ground. You can be assured that your hot tub installation will be completed correctly and will be in accordance with any possible city codes.
We only sell high-quality spas and hot tubs, thus eliminating the risk of long-term corrosion of being outside in Utah's weather conditions. Our hot tub construction is built strong and made for any climate. You can also add several options to your in-ground jacuzzies such as lighting effects, massaging jets, custom stereo setups, and much more.
Take a look at our Spa Portfolio
Hot Tub & Spa Benefits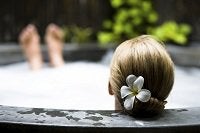 Outdoor hot tubs are the best place to relax by yourself or with your friends in the comfort of your own home. In addition to the relaxing factor, there are also many health benefits with a hot tub by using the latest technology in therapeutic features helping out areas such as back, shoulders, feet, and lumbar.
Our hot tubs and spas come with a wide variety of massage options as well. Other popular benefits of our hot tubs and spas can also include an aromatherapy feature which you can personalize the scents for.
Why Choose Us
With your custom hot tub and spa construction, you will also receive one of the most comprehensive warranties in the hot tub industry in addition to hot tub maintenance and regular cleaning.
Deep Blue Inc protects your hot tub investment by using only the best hot tub chemicals. This will allow your new hot tub to stand the test of time and life by taking advantage of these services. Our hot tub contractor provides you with everything you need to relax in your new hot tub including a large selection of hot tub accessories.
Contact us today or call us at 801-266-7665 and Request a Free Quote Today
Visit Our Showroom
Our hot tub builders have a showroom conveniently located in Holladay, Utah or you can fill out the form to the left to request a free on-site quote for your hot tub installation.