Swimming Pool Leak Detection in Salt Lake City, UT
Deep Blue Pool and Spas Offers Thorough Pool Leak Detection
Backyard pools provide fun and enjoyment for the whole family throughout the warm months of the year. At Deep Blue Pool and Spas, we're committed to helping homeowners get the most out of the pools in Salt Lake City, UT, which is why we offer comprehensive maintenance services, including pool leak detection and repair. Leaks not only cost you more in your water bill, but they can cause damage to the equipment and hardware in your pool, adding to costs. Finding the issue takes a trained eye which is why you'll save yourself a lot of time and headaches by reaching out to our leak detection company to fix the problem as quickly as possible. Think you have a leak? Contact us today to find out for sure.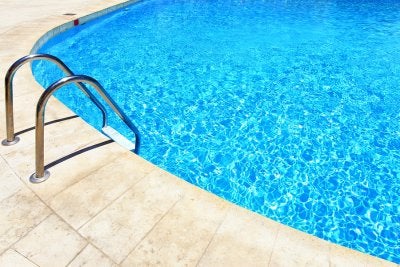 Signs of Pool Leaks
Water is a fluid and will find its way through the tiniest cracks, crevices, and holes. Some leaks may be obvious to locate, but others can be hidden from plain view. Because of this, it's essential to be aware of the common signs your pool has a leak. Doing so can help you stay ahead of a problem before it gets bigger and causes damage to equipment or the surrounding landscape. As professional pool installers, we know the problem spots, and as a pool owner, you should too. You may have a leak if:
Your pool is losing more than a ¼" of water per day
You notice excessive algae growth or water discoloration
The chemical consumption fluctuates frequently
Water corrosion is present around pipes or the pump
The pool is settling into the ground
You see standing water near the pool or equipment
Save Money and Time With Early Pool Leak Detection and Repair
One of the best ways to monitor pool performance and ensure all components are functioning properly is with regular maintenance. Our team has encountered just about every pool situation you can think of and will instinctively uncover issues that may need repair during routine maintenance checks. Early leak detection service comes with many benefits, such as:
Save Money on Water Bills – If water is leaking out of your pool, it's going to require more water each day to maintain the level, adding to your monthly water bills. Fixing the leak will put a stop to this.
Reduce the Risk to Your Pool Equipment – Water leaks can flood and cause damage to your pool's equipment and structure. Saturated soil can cause concrete to sag, corrode water pipes, and damage electrical components. The earlier the leak is detected, the lesser the impact will be.
You Won't Waste Water – In addition to saving money, stopping the leak will minimize wasted water which is a precious resource, especially during the hot summer months and times of drought.
Maintain Your Property Value – Homes with pools are more attractive to potential buyers and fetch more significant offers. However, a damaged pool that requires a lot of work is not as desirable and will turn some buyers away.
Save Money on Bigger Repairs – In general, the sooner an issue is resolved, the less impact it will have on other parts of the system, saving you money from having to fix or replace something before you get the full use of it.
We'll Locate a Leak in Any Kind of Pool
We've been in the pool industry for more than two decades, and every member of our team is a certified swimming pool builder. This means you're guaranteed a knowledgeable and professional service person passionate about the art and design of swimming pools of all kinds. If you're experiencing any issue, we can pinpoint a leak anywhere, including:
Inground
Above ground
Vinyl pools
Concrete pools
Gunite pools
Fiberglass pools
Pool plumbing equipment
Submerged equipment
Why Choose Us as Your Pool Service Provider
We have a long history of providing superior pool installations, maintenance, and repairs for homeowners throughout the region by trained staff members committed to ensuring you get the most out of your backyard amenities. We've earned awards and recognition for our services and look forward to serving you. Customers choose us because our company:
Has an A rating with the Better Business Bureau
Is owner-operated
Puts customer service above all else
Operates locally
Has more than 20 years of experience
Contact a Local Pool Leak Detection Company
Proper maintenance of your pool is essential to minimizing repairs and getting the most out of it. Contact the pros at Deep Blue Pool and Spas today if you need the above or inground pool leak detection services in Salt Lake City, UT. Even the tiniest leak can significantly impact your pool's performance and the landscape around it. Having our team locate the problem and provide a permanent solution will save you money and headaches in the long run. Contact us today for a free estimate.
Why Choose Us?
Small Company, With Big Service
Owner Operated
Impeccable Customer Service
All Employees Are Certified Pool Operators
Well Trained, Knowledgeable Staff