Install a New Gunite Spa in Your Salt Lake City, UT Home
You Can Trust Us with High-Quality Gunite Spa Construction
For the past 20 years, Deep Blue Inc has delivered unparalleled customer service and unique custom pool and spa design. We specialize in taking our clients' visions and applying our skills to meet their expectations. One of our most popular products is gunite spas, which our Salt Lake City, UT residents love for its longevity and aesthetic appeal. Gunite differs from concrete in several ways. For instance, rather than using large particles, we use small ones when applying gunite. Also, while concrete comes pre-mixed, we add water as we apply the mixture. The result is a process that enables stopping and fixing issues. Gunite surfaces are also smoother. If you're planning on installing a spa, get in touch with us today. We can help.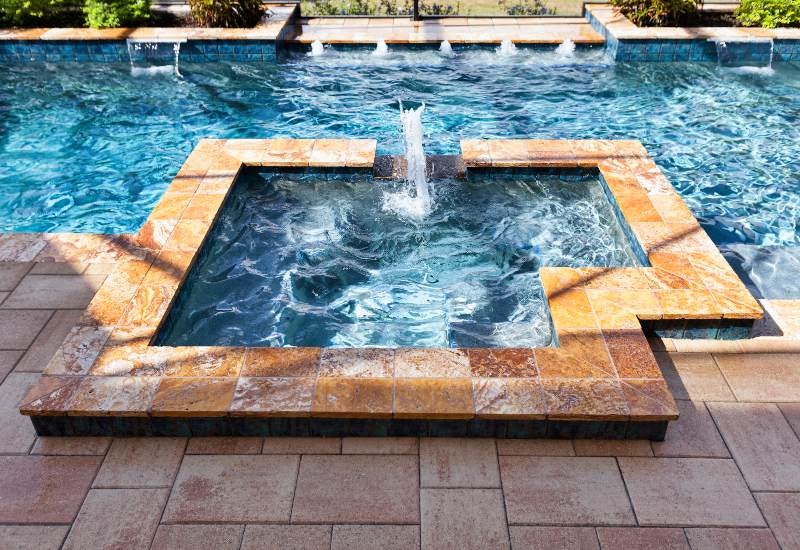 Why is Gunite Good for Custom Spa Designs?
We specialize in designing and installing custom spas. Gunite is an ideal method for these projects due to its flexibility. While we also work with concrete, we have found gunite to be perfect for any homeowner who wants to infuse their outdoor living space with sophistication. They offer increased durability and fewer long-term repairs, and gunite presents more design opportunities. For those reasons, we suggest gunite as the surface for custom spa designs. There are other benefits associated with gunite pools:
Flexibility: Concrete is limiting, but that isn't the case with gunite. Using this material, we can design a spa in any shape or size. You won't need to redesign your landscaping or choose a layout you aren't thrilled with. Whatever you want, we can accomplish.
Numerous Finishes: Gunite plaster finishes come in various colors and finishes, so you can put your personal touch on your spa. We can provide our specialized input to help you choose a finish that complements your pool and landscaping.
Longevity: Gunite is a durable surface. You always want to consider longevity when installing a spa, and there are few options better than gunite. Not only do we offer warranties on our spas, but you can count on fewer long-term repairs.
Easier Construction: Gunite is the best choice if you are looking for a seamless process emphasizing speed and efficiency. Gunite handles fluctuating temperatures better than concrete, ideal for Salt Lake City's variable climate.
More Customization: You can personalize a spa made from gunite. For instance, the depth, size, shape, and more are within your reach. We highly recommend this surface to anyone with particular ideas about visualizing their space.
What to Expect from Gunite Spa Construction?
Deep Blue Inc has years of experience installing gunite. Each step of the process requires precision and care. Fortunately, our team prioritizes attention to detail and superior workmanship, making us the best source for gunite spas in the region. We also stick to provided timetables, ensuring there are no lengthy delays. If we run into problems for some reason, we will always keep you up to date. If you see us working on your spa, you'll watch out team:
Excavate the earth where your spa will go
Begin constructing the foundation of the spa
Spray a heavy coating of gunite on the metal frame
Trowel every inch of the spa by hand
Smooth the gunite into a pristine surface
Add plaster
Our Gunite Specialists Have Years of Experience
Through the years, we have applied our pool and spa design, installation, and repair knowledge to generate perfect results. Our gunite specialists are versatile and multi-talented, allowing them to work with various paving surfaces and provide numerous services. We can provide:
Contact Deep Blue Inc Today
If you're looking to improve your home, there is no better way to do so than by investing in a gunite spa. But we're more than willing to use our creativity and technical knowledge to repair your swimming pool or install a new one. Our versatility is why we have become Salt Lake City's most trusted source for outstanding swimming pool and spa services. Contact us today for more information.
Why Choose Us?
Small Company, With Big Service
Owner Operated
Impeccable Customer Service
All Employees Are Certified Pool Operators
Well Trained, Knowledgeable Staff