Pool and Spa Cover Experts in Salt Lake City, UT
Keep Your Pool or Spa Covered with Deep Blue Inc
A pool or spa is one of the most substantial investments you can make for your home. Why not do everything you can to protect it so you and your loved ones can use it for years to come? The pool and spa experts at Deep Blue Inc can help you do just that with premier covers and services that last for life. We have nearly 20 years of experience with pool and spa covers in Salt Lake City, UT, and beyond. Our trained staff can customize your cover to your pool's unique shape and ensure you get the protection and function you need to safeguard your investment. As the owner of Utah Covers, we understand the advantages of properly utilizing top-of-the-line pool products year-round. We will expertly guide you in your choices, install everything quickly and efficiently, and provide additional maintenance and cleaning options to extend your cover's life. Contact a member of our friendly staff today to receive pool and spa protection that is second-to-none.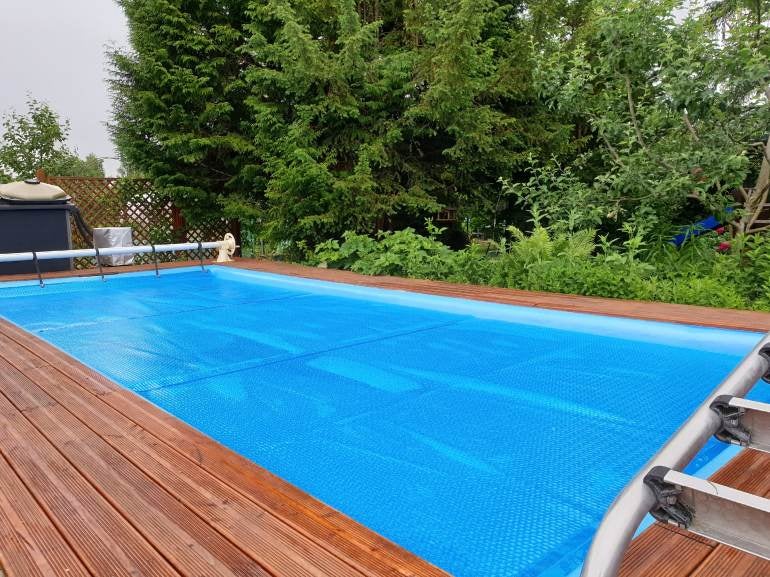 Our Pool & Spa Covers
No matter what type of pool or spa you have at your home, we have a premier product to cover it. Our team of licensed, insured installers will come to you with options that meet your custom needs and budget. We will deliver a high-quality cover that will never let you down. Whether you're searching for a simple sliding safety cover or you want to automate everything with the most advanced push-button covering capabilities, Deep Blue Inc can provide the solution you want. Typical styles of our superior pool and spa covers include:
Winter Covers: Winter pool covers are an incredibly cost-effective choice for your pool. These large tarp-like covers stretch over your pool to keep out debris when not in use. Large water bags weigh down the entire sheet to prevent movement and make annual installation and removal a snap. When choosing a winter cover for your pool, be sure to take safety precautions, as they will not hold up people or pets of any size.
Safety Covers: Manufacturers design safety covers to be incredibly durable. These covers can uphold the weight of 400-4000 pounds without sacrificing their sleek modern look or easy installation. Made from woven mesh or solid vinyl, traditional safety covers attach to your pool deck with straps and anchors around the perimeter. This construction prevents potentially deadly accidents while still keeping out harmful debris.
Automatic Safety Covers: Automatic safety covers are as good as it gets when it comes to protecting your pool or spa. These systems offer the same safety and energy-saving benefits as their full-sized cousins, but their mechanical operating system is more compact. Aside from their space-saving attributes, these covers also make expensive dehumidification equipment unnecessary because they reduce water and heat evaporation at a more efficient rate. Best of all, the custom-mounted motor puts full operation right at your fingertips. Simply turn a key or press a pad to open and close the lid. Automatic safety covers make wrestling with bulky, cumbersome covers a thing of the past.
Why Keep My Pool or Spa Covered?
One of the most common questions our customers ask is, "Why even keep the pool or hot tub covered at all?" As a leader in pool and spa covers in Salt Lake City, UT, we love this question.  It lets us tell our customers about all of the exciting time-, money-, and hassle-saving benefits a top-of-the-line pool or spa cover can provide, such as:
Safety: Safety is one of the main reasons Deep Blue Inc got into the business. By adding a cover to your pool or spa, you can keep your young family members and uninvited animal guests out of the water. Pool and spa covers prevent drowning disasters and ensure you are not liable for any injuries or deaths on your property.
Energy Conservation: Pool and spa covers help retain heat and prevent water evaporation. Those benefits equate to savings on the amount of electricity or gas necessary to bring your pool or spa up to a comfortable temperature.
Less Chemical Use: Pool chemicals can cause varying levels of irritation and adverse physical reactions. These conditions can include everything from itchy eyes to serious respiratory issues. However, every unique water feature needs chemicals for cleaning and treatment. Pool and spa covers cut down on overall chemical usage up to 65%, creating a safer, more enjoyable environment for all.
Why Choose Deep Blue Inc Cover?

For almost two decades, Deep Blue Inc has been Salt Lake City's go-to resource for pool and swim spa covers, services, and more. As leading installation experts, we have the knowledge and skills to offer you pool and spa solutions that exceed your expectations. Our company is fully licensed and insured. Our employees are certified pool operators specializing in custom hot tub installation as well as servicing, maintaining, and cleaning swimming pools and hot tubs. Over the years, we have earned a broad range of accolades and distinctions for our work, including:
Best in Show for Salt Lake Valley Parade of Homes, 2012
Preferred Pool Provider For Utah Valley Home Builders Association, 2014
A-Rating with Better Business Bureau
Deep Blue Inc is a small local company with incredible capabilities. When you work with us, you can speak directly to the owner who runs the day-to-day operations and ensures the best possible experience for all of our customers.
Our Pool & Spa Services
Deep Blue Inc does not just offer top-quality covers. We provide comprehensive installation and maintenance services for your pool and spa. From your initial estimate to our final follow-up, we make your unique build our top priority. Our technicians go beyond the service standard to bring your personalized aquatic vision to life. Our broad array of pool and spa services includes:
Contact Deep Blue Inc
Deep Blue Inc is an owner-operated company that has been serving Salt Lake City, UT, and the surrounding areas for more than 15 years. We want you to be excited about your home's pool and spa and proudly show it off to all your guests. Our contractors will help you do just that with installation, maintenance, and cover offers that keep your water feature looking pristine for life. Contact us today for your personalized pool and spa estimate.