Swimming Pool Maintenance in Salt Lake City, UT
Professional Swimming Pool Cleaning & Service
Enjoying your swimming pool shouldn't have to come with a lot of responsibility. The team at Deep Blue provides swimming pool maintenance for homeowners in Salt Lake City, UT. The key to enjoying your pool to the fullest is regular maintenance and care from professionals. When your swimming pool is clean and well-maintained, it offers a safer and more comfortable environment for you, your family, and your friends. Deep Blue is dedicated to helping you care for your pool or spa by offering routine swimming pool maintenance and other swimming pool services. Learn more about pool maintenance and get in touch with us for your free estimate.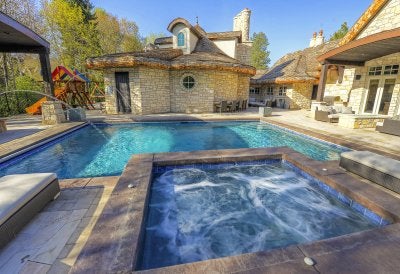 The Importance of Swimming Pool Maintenance
You take care of your body and your vehicle, among other things, so why would you want to neglect your home's swimming pool? Swimming pool ownership is highly desirable, but it also comes with great responsibility. Pools require regular maintenance to stay clean and safe. Without caring for your pool, the water could become unhealthy, causing anyone who swims in it to get sick. When you hire the team at Deep Blue, we'll never let this happen. Our comprehensive swimming pool maintenance service will keep your water clean and safe at all times. We also perform swimming pool repairs if necessary, and you can rest easy knowing that our team of experts is taking care of your pool.
What's Included in Swimming Pool Service?
Wouldn't it be great to sit back and enjoy your pool without the hassle of having to care for it? You can with our swimming pool cleaning service. We perform swimming pool openings and closings and will take care of your pool all summer. Our team can even help you winterize your pool once the swimming season is complete. We offer standard swimming pool maintenance packages at an affordable swimming pool maintenance cost. Our team's thorough service includes a swimming pool maintenance checklist, ensuring we perform the following:
Cleaning out skimmer and pump baskets, removing debris and leaves
Visually inspecting all pool equipment
Vacuuming pool bottom and removing large debris
Skimming water line, removing leaves, pine needles, sticks, etc.
Brushing pool walls and floor
Testing water chemistry and balancing as needed (chemicals not included)
Cleaning out or backwashing filter
Filling chlorinator and chlorine packs as necessary
Testing salt levels
Providing a written report of work completed and any chemicals used