Swimming Pool Lighting for Your Home
20+ Years of Experience
A fantastic way to customize your home is to choose high-quality lighting for your swimming pool. Not only are pool lighting additions customizable in shape, size, and color, but they can also be controlled by remotes – some even underwater. At Deep Blue Pools and Spas, we have more than 20 years of experience in the field, and each member is certified in swimming pool building. We currently hold an A rating from the Better Business Bureau and were voted Best in Show for the Salt Lake Valley Parade of Homes in 2012. Our dedication and enthusiasm for our field reflects significantly in our work, and even routine maintenance is sure to highlight why we are a top service provider.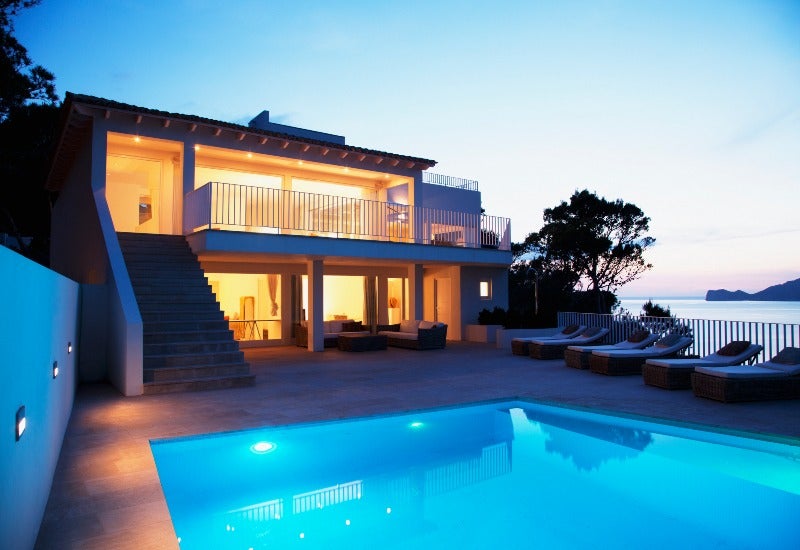 Swimming Pool Lighting Options
Take your swimming pool lighting further than you thought possible with a wide variety of options. The main reason to install swimming pool lighting is safety, but that doesn't mean you can't have fun with it! Underwater swimming pool lighting and outdoor area lighting are important for your protection and can significantly enhance the aesthetic of your home, depending on your choices.
Flush-Mounted Underwater LED Pool Lights: Aligned with the interior wall finishing of your pool, flush-mounted LEDs are a great way to add safety and brightness to your backyard. They are the standard go-to for pool lighting fixtures and ensure a safe and fun way to enjoy your pool addition. LEDs offer more than 20 colors to choose from and use less energy than their halogen counterparts but lack the lifespan and brightness of halogens. LED lights range from $700 to $900, making them more cost-effective than halogen fiber optic lights, which run from $1,300 to $1,700.
Surface-Mounted Underwater LED Pool Lights: Surface-mounted lights slightly protrude from the walls of your pool underwater but carry the same benefits as flush-mounted lights. This is one of the most common types of pool lighting, as it is versatile and reliable. These fixtures are typically seen in lap pools or inground pool lighting.
Surface-Mounted Underwater Halogen Pool Light: Halogen lights emit more light than LEDs, giving them an extra benefit in your pool. They are surface mounted as well, with a slight protrusion from the wall. They can tend to run hot, so take caution when backing up against the pool wall.
Submersible LED Lighting for Swimming Pools: These may be the easiest to install out of all the pool lighting mount types. These lights simply sink to the bottom of your pool to brighten the water area. These are simple and cost-effective and receive many compliments! These, along with floating pool lights, are battery or solar-operated.
Floating Pool Lights: Looking for an unusual swimming pool lighting idea? Try floating pool lights! They glide gracefully on top of the water, creating a beautiful sparkling effect. They come in a vast array of shapes, sizes, and colors.
The Benefits of Swimming Pool Lights
Along with customization, there are many practical reasons to install swimming pool area lighting.  Safety comes first and being able to navigate your pool or keep an eye on others using the recreational site is a top priority. They also use less energy than other lighting that can be placed around the pool. Along with safety and practicality, there are many cosmetic advantages to the installation of pool lighting. They can improve appearance to enhance the view of the pool and surrounding areas. Colors, shapes, and mounting types all aid in customizing the lighting aspect of your pool. Depending on positioning, they can highlight favored features such as waterfalls, surrounding plants, trees, or other elements in your pool's vicinity.
Swimming Pool Lighting Techniques
Ambient: The definition of ambient is "relating to the immediate surroundings of something." This encapsulates ambient lighting perfectly. The entire area around the pool is well-lit yet leaves the pool as its focal point. This lighting is usually blue but can be customized to other hues. Pool area lighting is excellent for better navigation in the dark from one end of your property to the other.
Task Light: If a bridge is featured on your property, placing lighting beneath it can create a sense of magic. This lighting works even in outdoor ponds or waterfalls. Task lights highlight the water, bridge, and vegetation surrounding it. Edges of the bridge are defined, helping with better navigation at night.
Accent Light: These lights can be found all over your property. They are typically used as up-lighting on trees or other elements of your space, including fireplaces and pits, hot tubs, and more. Using accent lighting strategically can highlight the main points of your backyard while still keeping the pool the focal point.
Layering Light Techniques: Using various lighting types for your pool and surrounding areas benefits customization and intimacy. Using lighting techniques to perfectly capture your vision makes your home more personal and will reflect your taste beautifully.
Color in Light Techniques: Deep blue or purple lighting is typical in pools, accentuating the color and depth of the water. Various other colors can be added to your pool, trees, or surrounding areas to create a unique design for you.
 Swimming Pool Lighting Q&A
Can I get lights if I already have a pool? – Absolutely! You can install new lights anytime, whether your pool is new or older. We offer professional pool lighting installation services that take care of any necessary water drainage or installation techniques.
How much lighting do I need? – If you're going with LED lighting, you may require more than if you prefer halogens. Our experienced team of professionals is here to work with you on lighting to ensure you have the best quality while staying within your budget.
Is underwater pool lighting safe? – Yes, when installed by professionals. Water and electricity are not the best pair, so professionalism and experience is important during installation.
How much maintenance do swimming pool lights need? – Swimming pool lights need minimal maintenance, such as bulb replacement. This is a quick and easy task, and we provide routine check-ups and bulb replacements to assist with any upkeep you require.
Contact Deep Blue Pools and Spas
At Deep Blue Pools and Spas, we believe in excellence, quality, and professionalism. Each team member is a certified swimming pool builder with knowledge and skills in each step of the installation process. We will build the pool of your dreams, starting with a free estimate, and we will work with you to figure out the perfect amount of lighting to add to your pool. Contact us today to schedule a free estimate. We look forward to serving you!
Why Choose Us?
Small Company, With Big Service
Owner Operated
Impeccable Customer Service
All Employees Are Certified Pool Operators
Well Trained, Knowledgeable Staff