Pool Construction & Installation
Trusted Swimming Pool Builder in Salt Lake City
Adding a new swimming pool to your property creates a luxurious and fun retreat for your family and friends.
Deep Blue Inc is here to help you with everything from swimming pool installation and custom pool design to swimming pool maintenance and spa construction near Salt Lake City.
Whether you want to install an indoor swimming pool, saltwater pool, lap pool, or in-ground pool, our swimming pool builder has the knowledge, skills, and experience to make a pool remodel or custom hot tub installation an easy, stress-free process.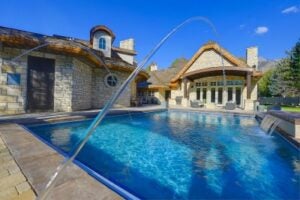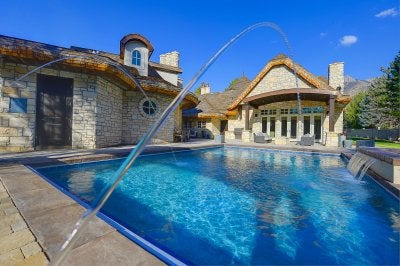 Designing Your Perfect Swimming Pool
Before you schedule your new swimming pool installation and construction project, you need to choose the type of pool you want.
Your swimming pool builder can help you design the perfect swimming pool for your swimming pool design preferences and convenience or pool safety needs.
Pools are available in a wide variety of shapes and sizes, from traditional rectangular and L-shapes to freeform pools that mimic the look of natural ponds and lakes.
The depth of your saltwater pool will depend upon how you want to use it. Shallower pools are great for soaking, family fun, and swimming laps. Deeper pools are best if you want to install a diving board or pool slide.
Extra features, such as lighting, water features, and outdoor fireplaces, can add style and personality to your in-ground pool, turning it into an appealing and functional retreat for your home.
Check out our Pool Project Gallery
Call us at 801-266-7665 and discuss your pool project today!
Steps Involved in Pool Installation
Swimming pool installation typically takes four to six weeks for our swimming pool contractor. The exact steps involved in your swimming pool construction process may vary, depending upon the type of pool you want like a fiberglass swimming pool.
Excavation – If you are installing an in-ground pool, the first step is excavation.


During this process, your swimming pool builders will use equipment to dig a hole in your yard that will house the pool and its plumbing.

Install panels and supports – Once the ground is ready, wall panels and supports will be installed in the desired shape of your swimming pool. The pool's plumbing and electrical components will also be installed at this time.
Pool's basin – If you are installing a concrete or gunite pool, the pool's basin will either be poured or sprayed onto the walls. A concrete bond beam may also be added around the exterior of your pool to provide additional support for the walls and braces.
Pool deck – The area around your pool will be backfilled with earth to cover most of its technical components and provide an area for your pool deck.
Liner or tile – The pool's liner or tile, as well as the pool deck area around your pool, will be added to complete the project.