Innovative Pool Designs in Salt Lake City, UT
Swimming Pool Installation Made Easy
 Deep Blue Pool and Spas is committed to helping customers with all their swimming pool needs. We are well-known for creating pool designs that amplify Salt Lake City, UT properties and improve their look and feel. Most importantly, we design pools that work functionally. Our goal is to help you gain more enjoyment from your home, and we accomplish this goal through hard work and plenty of expertise. We have over 23 years of experience performing our jobs. We are proud of the reputation we have built for ourselves along the way. Beginning with a free estimate, get started on designing the swimming pool of your dreams.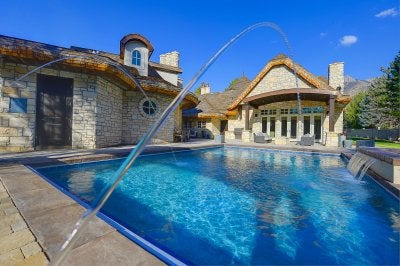 What Is Included in Swimming Pool Construction?
Whether you plan to install an indoor swimming pool, a saltwater pool, a lap pool, or something else, our builders have the expertise required to get the job done. Our experience and knowledge are powerful assets and enable us to deliver quality and satisfaction to our clients. We can adjust to your requirements and deploy our expertise accordingly. We offer pools in various shapes, from traditional rectangular and L-shapes to freeform pools that mimic the appearance of a pond or lake. We can install a shallow or deep pool or one with both a shallow and deep end. During your estimate and consultation, we will determine what you want and recommend based on this conversation. We also offer extra features, such as lighting, water features, and outdoor fireplaces, all of which enhance your swimming pool experience.
The Swimming Pool Construction Process
You can expect the installation process of a new pool to take four to six weeks from the moment you settle on a design. Our contractors are efficient, but they also work carefully to avoid mistakes. While the steps in the construction of your swimming pool might vary, the general idea is as follows:
Excavation: Before we can begin installing your pool, we must clear space for it. Excavation is a crucial step in the process, one our contractors know how to perform. Sometimes, we must level the ground where the pool is going, particularly if your lawn slopes. Once the ground is level, we dig a hole in the yard. This hole will house the swimming pool and all the appropriate plumbing.

Installation of Panels and Supports: Once we ready the ground, we can begin installing wall panels and supports. These elements form the shape and basis of your swimming pool, making it an essential step in the process. We also install all plumbing during this phase. You will begin to see your swimming pool take shape as we install the panels, supports, and plumbing fixtures!
Pool's Basin: If your pool is concrete or granite, we will pour or spray the basin onto the walls. Sometimes, we use a concrete bond beam for additional reinforcement of the walls and braces. You can trust us to perform this task ably and securely. We will make sure your pool design is sound and ready to handle the subsequent phases.
Pool Deck: Once we finish the above phases, our team can begin preparing the earth around the basis and pool. We will cover the plumbing fixtures and other elements with soil to provide a blank slate for the next phase – installing the deck and filling the pool with liner or tile.
Liner or Tile: Lastly, our team will fill the pool with a liner or tile, depending on your pool's schematics. During this phase, we will also complete the pool deck area to complete your pool. Once we finish this process, you are ready to swim in your pool!
Why You Should Choose Us for Modern Pool Designs
Our team is skilled at crafting modern pool designs for our clients. We have a sterling reputation in Salt Lake City, UT, and the surrounding area. Our customers know they can count on us to perform each step of the swimming pool construction process carefully and correctly. The Better Business Bureau has given us an A+ rating, acknowledging the excellent work we have done in the area.
Contact Deep Blue Pool and Spas Today
There are too many benefits to having a swimming pool in your backyard to wait one more moment. When you decide to install a new swimming pool, choose Deep Blue Pool and Spas. We understand swimming pool installation, and our creative team understands swimming pool designs and plans. We are committed to delivering high-quality swimming pools using only the finest materials and craftsmanship, so contact us today.
Call us at 801-266-7665 and discuss your pool project today!