When you are preparing for a swimming pool installation, it is important to create a pool design that matches perfectly with the style and layout of your home and yard. From traditional L-shaped pools to pools with organic, curved designs, your pool contractor in Salt Lake City can help you create the perfect pool for your property. To get the most out of your swimming pool or hot tub installation, it is crucial to work with swimming pool builders who have a great reputation in the local community. Read on for some handy tips to keep in mind when you are choosing a swimming pool layout.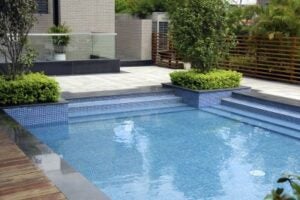 Rectangular Layout
If your yard has a formal look and feel, you may want to choose a rectangular layout for your swimming pool. The rectangle is a classic swimming pool layout that has been used for many centuries. For those pool owners who like to swim laps or perform water aerobics, the rectangular swimming pool is also the perfect shape for getting aquatic exercise.
Oval Layout
To place a unique twist on your swimming pool design, you may want to consider choosing an oval layout. Unlike a rectangular swimming pool, which contains angular edges, an oval swimming pool is rounded on the ends. With an oval swimming pool, you and your loved ones will be able to set up water games around the perimeter of the pool. The softer lines of an oval swimming pool will make this type of pool appear less formal in your yard.
L-Shaped Layout
When you are seeking to maximize your pool deck space, you might want to consider creating a swimming pool that has an L-shaped layout. With an L-shaped swimming pool, your pool will create a natural lounging area that you and your guests can use to enjoy the sunshine. Since an L-shaped pool has a natural contour, you can also create shallow and deep areas that are suited for different swimming activities and games.