When you are preparing for a new swimming pool installation in your backyard, you will have many factors that you will need to consider. One important detail that you will need to figure out with your pool contractor in Salt Lake City is the size and dimensions of your new swimming pool. A team of swimming pool builders that offers swimming pool maintenance and installation services will be able to work with you to decide on a swimming pool size that will accommodate your family and your friends easily. Read on for an overview of some factors to consider when you are deciding on a swimming pool size.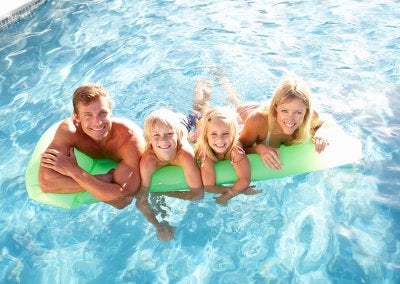 Consider Your Family Size
In order to decide on an optimal swimming pool size for your home, it is a good idea to consider the size of your family. If you have a very large family and tend to host big gatherings in your backyard, you will want to make sure that your home is large enough to accommodate all of your loved ones. Smaller families can often make do with slightly smaller pools.
Evaluate Your Intended Use
The ideal size for your pool will also depend on how you intend to use it. For those pool owners that plan to swim laps and exercise in their pools, it may be more important to choose a longer and larger pool size that can accommodate all types of activity. If you simply intend on taking a dip and cooling off, you may not need to worry about your pool being big enough to swim laps.
Measure Your Backyard
Ultimately, it is also important to make sure that your swimming pool is the right size for your backyard. You do not want to install a pool that is so large that it takes up the majority of your lawn and landscaping. When choosing a pool size, you will also want to consider other features, such as whether you will want to have a patio or outdoor kitchen adjacent to your pool deck.