One of the best ways to beat the heat in Utah during the summer is with your very own in-ground swimming pool. A new pool can also increase the value of your home, which means you can recoup most (if not all) of the cost a building a swimming pool when the time comes to sell. To make sure you end up with the best final product, here are some tips for designing a new swimming pool with your Salt Lake City pool builder .
Set a Budget
For starters, sit down with your pool company and set a realistic yet flexible budget for your new swimming pool. We say flexible because the project may include additional features and elements later on that you didn't anticipate or expect at the onset. While you're crunching numbers, take a few minutes to set a monthly pool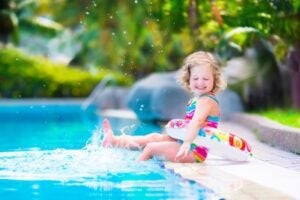 maintenance budget. How much you can afford to spend on maintenance and upkeep will help you select the most appropriately sized pool, since larger pools tend to require more maintenance and have higher operating costs.
Measure Your Space
Before you decide on the size and dimensions of your new swimming pool, you must first determine the size and dimensions of your backyard. It's important that you design a pool that is appropriately sized for the space you have available. You also need to factor in space for a deck, patio, fencing, outdoor fireplace, and other desired features.
Consider the Entire Living Area
Speaking of additional features, take the opportunity to remodel your entire outdoor living space while designing your new swimming pool. Some pool companies in Salt Lake City provide additional landscape and hardscape design and installation services. Whether you want a simple outdoor fireplace or an entire outdoor kitchen, there's no better time to design the backyard of your dreams while designing the swimming pool of your dreams.