If you're looking for more ways to have fun and cool off this summer, consider pool installation near Salt Lake City. Backyard pools can add beauty to your yard while providing fun, relaxation, and relief from the summer's heat. Here is a step-by-step look at the swimming pool installation process: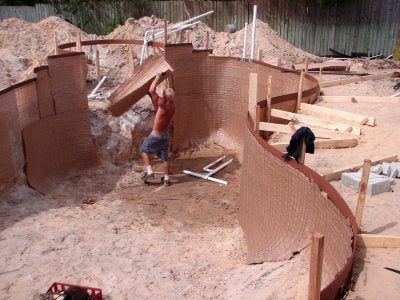 Design
The pool installation process usually takes about 4 to 6 weeks to complete. While the exact steps may vary between individual pools or pool contractors, there are several important steps for every pool building process. Before the installation can begin, you will first work with your pool contractor to determine the pool's location, size, and shape. You'll also decide on most of the details at this time, such as pool tile, surface texture, deck material, and if you would like a pool heater.
Excavation
Once you have a plan ready, excavation can begin. Your contractor will first measure and mark the shape of the pool. Next, the vegetation and landscaping in the area will be removed. Once the ground is ready, a hole will be dug to hold the pool and its plumbing.
Bracing & Plumbing
After the excavation is complete, panels and braces will be placed to create a framework for the walls of the pool. At this point, you will see your pool begin to take shape. Next, all of your pool's plumbing and electrical wiring will be installed. In many cases, these steps will be completed by plumbing and electrical professionals.
Pouring
With all of the pipes and wiring in place, the concrete will be poured to form the shell of your pool. After this step, dirt is moved back around the pool to fill surrounding gaps, cover the plumbing, and create a surface for your deck. Once the backfilling is complete, the deck will be built, and a liner will be added to the pool. At this point, you will only need to replace the landscaping before you can enjoy your new backyard pool.