A new swimming pool installation will provide you and your loved ones with plenty of fantastic outdoor recreational opportunities during the upcoming summer season. If you are getting ready for a new swimming pool installation for your property, you will want to hire a highly rated swimming pool company near Salt Lake City. From installing your pool to performing routine swimming pool maintenance, your contractors can assist you with every aspect of pool ownership. To help you get started on your pool or hot tub installation project, here is a quick look at a pool design and construction checklist.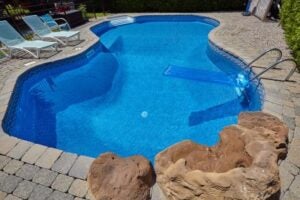 Gather Inspiration
During the initial phases of the pool planning process, you will need to gather plenty of design inspiration for your brand new swimming pool. Rather than designing your pool from scratch, you can look at landscaping websites, home design magazines, and other sources for ideas and inspiration. You may even want to consider creating a notebook to gather all of the pool features and materials that you want to include in your new pool.
Write Down Your Must-Haves
As you are designing a new pool construction, you will want to make sure that you clearly communicate your desires to your pool contractors. Before the pool building process begins, you can write down a list of the must-have features that you want to include in your new pool. Some popular features include waterfalls, fountains, LED lights and tanning shelves. These features will transform an ordinary pool into a gorgeous backyard oasis.
Consider Your Layout
No pool design and construction checklist would be complete without a thoroughly considered layout and blueprint design. The layout of your swimming pool will depend greatly on the size and shape of your backyard. To determine the ideal shape and orientation of your pool, you can use a rope or gardening hose to physically mark off your desired pool area. Once you have seen the layout of your pool in person, you will have a better idea of what it will look like when it is completed.