Maintenance is essential if you want to keep your swimming pool installation serving Salt Lake City in top shape, but what do you do about the offseason? Big and small pools can both benefit from a pool cover, which can lower maintenance requirements and keep your family and pets safe during the colder months. A pool cover can even help maintain the amount of water in your pool, which protects the environment and saves you some hassle when you open your pool again during the summer. Here is a closer look at the top reasons you need a swimming pool cover.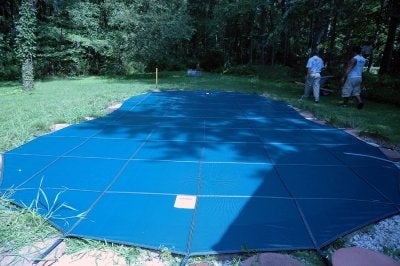 Cut Down on Maintenance Needs
Swimming pool maintenance tends to be a simple enough process, but why not make it even easier? It's one thing to skim your pool during the summer, but it's probably not something you'd want to be doing during the winter. When you use a pool cover, you won't have to worry about removing bugs, leaves, or other debris from the water. This means your list of chores will be one bullet point shorter when the weather gets colder. If you don't want to skim your pool all year long, consider using a pool cover to shield the water.
Protect Your Family
Just because the weather cooled down, it doesn't mean your pool will automatically freeze over. You might stop paying so much attention to your pool area when you're not using it, but your kids and pets might have a different idea. Although all pool areas should be enclosed or protected in some way, kids and pets tend to make their way into the prohibited zone regardless. A pool cover helps to keep your family safe. Even if your kids or pets do make it into the pool area, the cover will prevent them from falling in.
Preserve Your Water
If you don't want to have to deal with completely refilling your pool when the summer rolls back around again, a pool cover can help. It will prevent your water from becoming contaminated, and it will also retain water that might otherwise evaporate on warmer days.