Your new swimming pool should be your own private sanctuary. It's where you'll go to relax and ignore the rest of the world for a little while. So why not take it a step further by adding a feature that epitomizes peace and tranquility? Waterfalls are a surprisingly affordable addition to any home swimming pool installation in Salt Lake City. Even if your in-ground pool has already been installed, you can still get back in touch with the pool contractor to inquire about adding a waterfall.
Meditative Sounds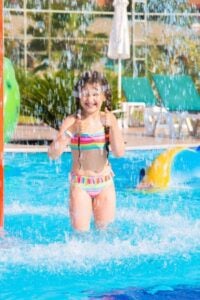 The pleasant sounds of babbling brooks and cascading waterfalls are frequently the stars of musical arrangements intended for meditation. Even if you aren't interested in meditating, there's no question that the soothing sounds of your own private waterfall at your swimming pool can help you unwind from the stress of daily life.
Visual Aesthetics
Your poolside waterfall can be custom designed and built to your exact preferences. It can be as simple or complex as you wish. Some families love the clean lines of sleek, modern design, while others prefer the natural look of rough-hewn stone. If you plan to construct a tall, expansive waterfall of natural stone, you could have the water directed to flow gracefully off multiple levels.
Leisurely Recreation
Any child who loves to swim will enjoy ducking through a beautiful waterfall—after all, a backyard waterfall far surpasses running through a sprinkler in the backyard. Plus, any pool party your child decides to host will be sure to be a success.
Natural Filtration
Waterfalls are the height of poolside luxury, but they also offer practical benefits. They churn the water continuously, which supports the pool's filtration system. A waterfall is also an algae deterrent, as algae is more apt to accumulate in still water.
Installation Enhancements
Your poolside waterfall can be as unique as your own sense of style. Consider adding some enhancements to it, as well. If you've chosen natural stone for your waterfall, you might add a small stone staircase at one side of the waterfall to provide access to a slide on the other side. Add some dwarf shrubs for greenery, or consider adding a fire feature nearby.